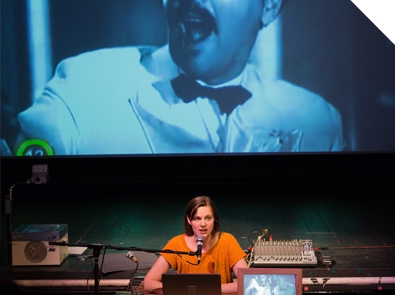 (£11.75 inc online booking fee)
Friday, 1 June, 2018 -

19:30 to 21:00
At the centre of Deborah Pearson's show is a Soviet-sponsored sports comedy. Released in the 1950s, it became tied to a political uprising that made a mark on world history. Using the film as material, Pearson creates a live documentary onstage. Her words form a counterpoint to the movie, fusing the political, the historical and the achingly personal. Riveting, haunting and ultimately inspiring, this performance has toured to ten countries on three continents. 
A House on Fire commission with Culture Europe, co-produced by Theatre Garonne (France) and bit teatergarasjen (Norway).  History History History was developed in part at the National Theatre Studio.  With outside eye work by Tania El Khoury and Laura Dannequin and dramaturgy by Daniel Kitson.
★★★★★
(The Herald, Fix Magazine, Teatro Persinsala)
★★★★
(The Sunday Times, Reviewshub)
"A roving and inventive presentation." 
- Sight and Sound Magazine
"This is the best show I have seen at the PuSh Festival in years, one which performs alchemy—creating a new magical art form out of ordinary materials." - Geist Magazine, Vancouver
Named one of the 10 best shows of 2017 by Publico, Portugal's national newspaper
Photo by Paul Blakemore
Venue

Opening Hours:

Pyramid arts centre Open: Mon-Wed 9am-9pm, Thurs-Fri 9am-5pm, Sat 10am-2pm. Closed Sundays

---